Paper Caterpiller
This Paper Caterpiller is an easy way to make a 3D bug
that can also bend when he crawls!




Level of Difficulty: Easy to Moderate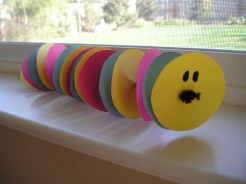 Here's what you'll need...
• Construction paper
• Scissors
• Pipe cleaner
• Marker
• Pen or pencil



Here's how you make it...
1. Cut different colored circles out of construction paper. Cut as many as you'd like, the more you cut the more colorful and long your caterpiller will be.



2. Using a pen or pencil, punch holes in the center of each circle and tread onto a pipe cleaner. Repeat until you have made your caterpiller as long as you would like it.
3. Fold the pipe cleaner on either end to secure the circles and draw on two eyes.




Sign up for our FREE Newsletter
The Busy Bee BUZZzzz
You'll get the BUZZzzz on our new crafts, featured crafts for up coming holidays and seasons, AND learn some fun and useful tips for doing kids crafts - all delivered to your inbox from busybeekidscrafts.com.
Your email address is totally secure, it is only used to send you the Busy Bee BUZZzzz.
Click here to find other Insect crafts like the Paper Caterpiller