Paper Plate Leprechaun
This Paper Plate Leprechaun is super easy and fun to make. A great St. Patrick's Day craft for Preschoolers on up!


Ages: 3 and Up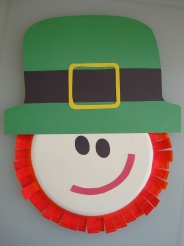 Here's what you'll need...
• Paper plate
• Orange paint
• Paint brush
• Scissors
• Construction paper
• Glue



Here's how you make it...
1. Paint the rim of your paper plate orange, eating side down.



2. While you're waiting for the paint to dry, cut out a green hat, black strip, and yellow buckle. Glue together. You may also want to cut out your eyes and mouth.



3. When your paint is dry, cut slits around your paper plate to make the leprechaun's beard. You only need to cut slits ¾ around the plate (since the hat will cover part of it) but it won't do any harm if the younger ones want to cut all the way around.
4. Glue on your hat, eyes and mouth.
The leprechaun's face can be made in many ways, you can cut shapes out of construction paper, like we did, or you can simply draw them on with a marker, or make it even more fun by cutting out facial features from pictures in magazines!


Sign up for our FREE Newsletter
The Busy Bee BUZZzzz
You'll get the BUZZzzz on our new crafts, featured crafts for up coming holidays and seasons, AND learn some fun and useful tips for doing kids crafts - all delivered to your inbox from busybeekidscrafts.com.
Your email address is totally secure, it is only used to send you the Busy Bee BUZZzzz.
Find more St Patricks Day Crafts like the Paper Plate Leprechaun