Paper Plate Rainbow
This Paper Plate Rainbow is a perfect craft for preschoolers. Paper plates are just the right shape for rainbow-making, add some clouds and you've got one fun craft!


Ages: 3 and Up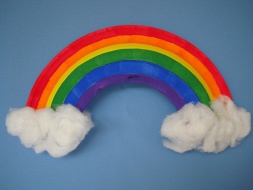 Here's what you'll need...
• Paper plate
• Scissors
• Paint and brush
• Cotton balls
• Glue




Here's how you make it...
1. Prepare you paper plate by cutting it in half and then cutting out a small semi-circle from the bottom to make a rainbow shape.



2. Now it's time to paint on your rainbow. You can put any colors you'd like on your rainbow, in any order. However, if you want to be precise with your colors you can layer them as follows: Red, orange, yellow, green, blue and purple.



3. Once your paint is dry you can glue on your cotton ball clouds to each end of your rainbow.
Most paper plates have a glossy finish on the "eating" side of the plate, the back does not. The paint takes better on the non-glossy side of the plate, so keep this in mind when doing your craft, and have to kids paint their rainbow on the back of the plate.


Sign up for our FREE Newsletter
The Busy Bee BUZZzzz
You'll get the BUZZzzz on our new crafts, featured crafts for up coming holidays and seasons, AND learn some fun and useful tips for doing kids crafts - all delivered to your inbox from busybeekidscrafts.com.
Your email address is totally secure, it is only used to send you the Busy Bee BUZZzzz.
Find more Bible Crafts like this Paper Plate Rainbow
Find more St Patrick's Day Crafts for Kids
Find more Paper Plate Crafts