Paper Plate Spider Web
This Paper Plate Spider Web craft is a great Halloween craft for older toddlers on up. This craft involves marbles, so please make sure you supervise young children closely as it may pose a choking hazard!


Level of Difficulty: Easy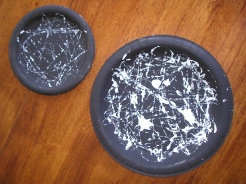 Here's what you'll need
•Paper plate (without waxy coating is better but not necessary)
•Black and white paint and brush(tempera or acrylic)
•Marble, or anything that is heavy and round like a marble (like a bead)



Here's how to make it...
1. Paint your paper plate black (if you have a waxy finshed plate you may need to give it a couple of coats). Once your black paint has dried, drop 2 or 3 small drops of white paint on to the middle of your plate. Place your marble in the plate and roll it around. The marble will spread around your white paint making a spider web design.




Sign up for our FREE Newsletter
The Busy Bee BUZZzzz
You'll get the BUZZzzz on our new crafts, featured crafts for up coming holidays and seasons, AND learn some fun and useful tips for doing kids crafts - all delivered to your inbox from busybeekidscrafts.com.
Your email address is totally secure, it is only used to send you the Busy Bee BUZZzzz.
Click here to find more Halloween Crafts like the Paper Plate Spider Web!