Paper Punch Lady Bug
Why not make this easy Paper Punch Lady bug? Hole punches can be the most intriguing craft tools, especially to preschoolers - and the space in the hole punch is too small to get little fingers caught in so it's easier than scissors!




Level of Difficulty: Easy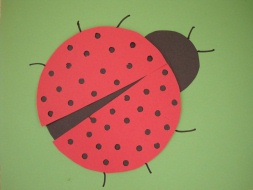 Here's what you'll need...
• Construction paper – black, red and green
• Pencil
• Scissors
• Glue or tape
• Black marker
• Hole punch

Here's how you make it...

1. Cut out a red and black circle from your construction paper - they need to be the same size and no more than about 5" in diameter (otherwise your hole punch won't reach into the middle). Cut your red circle in half and cut out a small black circle for the head. Try using a small plate to trace out the big circles and a spice container to trace around for the small circle.



2. Glue or tape your black circles onto a piece of green construction paper as shown in the picture.



3. Punch holes in both red semi circles and then glue onto your black circle. With a black marker draw on legs and antennae.




Sign up for our FREE Newsletter
The Busy Bee BUZZzzz
You'll get the BUZZzzz on our new crafts, featured crafts for up coming holidays and seasons, AND learn some fun and useful tips for doing kids crafts - all delivered to your inbox from busybeekidscrafts.com.
Your email address is totally secure, it is only used to send you the Busy Bee BUZZzzz.
Click here to find other Insect Crafts like the Paper Punch Lady Bug