Pig Finger Puppet
This Pig Finger Puppet is a really fun craft to make, perfect for a farm animal project or even for a 3 Little Pigs craft!


Ages 3 and Up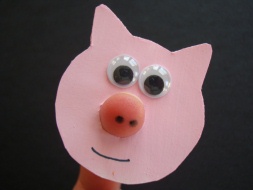 Here's what you'll need...
• Card stock or paper plate
• Pink paint and brush (if you're using a paper plate)
• Scissors
• Washable marker
• Google eyes (optional)



Here's how you make it...
1. From your card stock or paper plate cut out a round circle, with two triangle ears. Trace the end of the child's finger in the middle of the circle, and cut it out, a little wider than you traced (you can always make it bigger later if needed). If you have pink paper you can skip to step 2, otherwise you will need to paint your paper pink.



2. Glue on some google eyes (or draw them on with marker) and add a smile. Draw two dots on the end of a finger, put the finger inside the hole, and you're ready to play!
This would look even cuter if you had a pair of pink gloves to use!


Sign up for our FREE Newsletter
The Busy Bee BUZZzzz
You'll get the BUZZzzz on our new crafts, featured crafts for up coming holidays and seasons, AND learn some fun and useful tips for doing kids crafts - all delivered to your inbox from busybeekidscrafts.com.
Your email address is totally secure, it is only used to send you the Busy Bee BUZZzzz.
Find more Farm Animal Crafts like this Pig Finger Puppet
Find more Animal Crafts