Pine Cone Christmas Tree
It's hard to tell that this Pine Cone Christmas Tree is actually made with a Pine Cone, you'll never guess what we made the green branches with! A super fun Christmas craft for preschoolers on up!


Ages: 3 and Up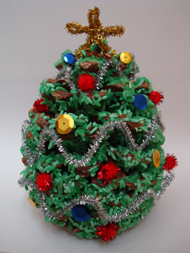 Here's what you'll need...
• Pine Cone (we used a giant one, but any size will do)
• Rice
• Green food coloring
• Zip-lock baggie
• Wax paper
• Glue
• Craft stick or anything that will spread glue
• Paper plate or bowl
• Embellishments to decorate your tree (we used metallic pipe cleaners and pom poms, and sequins)
• A small piece of paper tube – like a tp roll, IF your pine cone will not stand up on its own.
You will be dying rice to make this craft, but don't be discouraged from doing this craft if you don't have a lot of time, it is very fast and easy to dye rice!



Here's how you make it...
1. In a zip-lock bag mix 1 cup of rice, 1 teaspoon of water and 6-10 drops of food coloring. Seal the bag and squish the bag around until all the rice is coated. If you want your rice more a deeper green just add more food coloring, or don't put in any water at all (1 cup of rice will cover a giant pine cone, with some left over). Lay the rice on a sheet of wax paper to dry, it should dry very quickly.



2. Spread glue ALL OVER your pine cone. Insides and outsides, just do sections at a time. Use a craft stick to spread the glue.



3. Hold your pine cone over a paper plate or bowl and sprinkle rice all over the gluey pine cone. Press the rice down with your fingers or craft stick so that it sticks really well! Shake off the excess into the bowl. Continue spreading glue in sections until all the pine cone is covered. Shake your pine cone well into the bowl to get rid of any loose rice.



4. Now it's time to decorate your tree. We wrapped shiny pipe cleaners around for garland (this would be too tricky for preschoolers so an adult would have to help). Glue on sequins for ornaments, or you can use paper, foam, pom poms, even buttons, be creative!
If your pine cone does not stand up on its own just cut a small piece off a paper tube and place your pine cone inside (it will just look like the trunk).
If you don't live in an area where you can find pine cones outside just have a look at your local dollar store, Walmart or craft store, you won't have any problem finding giant pine cones. While your there have a look for Christmas craft items for cheep, like pipe cleaners, pom poms and such.


Sign up for our FREE Newsletter
The Busy Bee BUZZzzz
You'll get the BUZZzzz on our new crafts, featured crafts for up coming holidays and seasons, AND learn some fun and useful tips for doing kids crafts - all delivered to your inbox from busybeekidscrafts.com.
Your email address is totally secure, it is only used to send you the Busy Bee BUZZzzz.
Find more Christmas Crafts like this Pine Cone Christmas Tree