Pineapple House
Who lives in a Pineapple House under the sea? Why SpongeBob of course! This is a fun craft to do in combination with our A Real Sponge-Bob craft!


Ages: 4 and Up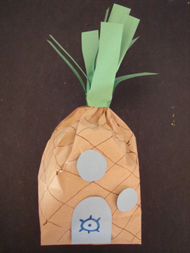 Here's what you'll need...
• Brown paper bag
• Newspaper or scrap paper
• Scotch tape
• Markers
• Green and blue/gray construction paper
• Scissors
• Glue



Here's how you make it...
1. Crumple up some newspaper and stuff your paper bag about ⅔ full.



2. Gather your bag up at the top and wrap a piece of scotch tape around it to secure. If you have extra bag sticking out at the top cut it off. OPTIONAL: With a brown or orange marker draw diamonds or a diagonal checker board all around your paper bag.



3. Cut a piece of green construction paper in half and cut long slits across - don't cut all the way through!



4. Put glue along the green construction paper and wrap around the top of your paper bag. The loose ends are at the top so that it looks like the top of a pineapple.



5. Cut out a door and windows from construction paper, draw on any details you wish with markers and glue in place on your pineapple house!


Sign up for our FREE Newsletter
The Busy Bee BUZZzzz
You'll get the BUZZzzz on our new crafts, featured crafts for up coming holidays and seasons, AND learn some fun and useful tips for doing kids crafts - all delivered to your inbox from busybeekidscrafts.com.
Your email address is totally secure, it is only used to send you the Busy Bee BUZZzzz.