Pirate Hook
No Pirate is complete without his Pirate Hook! This is a quick and easy craft to make for dress-up, a costume, or for any Pirate occasion!


Ages: 7 and Up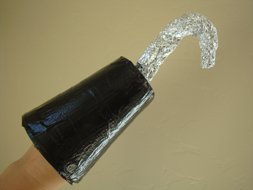 Here's what you'll need...
• Tin foil
• Sturdy paper or Styrofoam cup
• Duct tape (black or grey)
• Scissors



Here's how you make it...
1. Tear off a large strip of tin foil and crumble it into a hook shape. You can add more foil until you are happy with the shape and size of your hook.



2. Cut a hole in the bottom of your cup, about the same size as the bottom of your foil hook.



3. Cut some strips of duct tape and cover the cup around the hole.



4. Cut 3"-4" lengths of duct tape and cover the rest of the cup.



5. Once your cup is completely covered insert your foil hook into the hole in the cup.



6. Tape the foil to the inside of the cup to secure it.


Sign up for our FREE Newsletter
The Busy Bee BUZZzzz
You'll get the BUZZzzz on our new crafts, featured crafts for up coming holidays and seasons, AND learn some fun and useful tips for doing kids crafts - all delivered to your inbox from busybeekidscrafts.com.
Your email address is totally secure, it is only used to send you the Busy Bee BUZZzzz.