Plastic Easter Egg Crafts
10 Fun Crafts for Spring, Summer and Mother's Day
Don't wait until next year to use those plastic Easter Eggs again, or worse... throw them away (gasp!). Recycle those eggs now by making fun kids crafts for Spring, Summer and Mother's Day!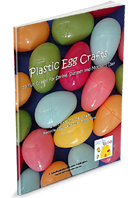 Finally an answer to that nagging question: "What do I do with all these plastic Easter eggs?" In this EBook you'll find 10 really fun plastic Easter egg crafts for kids that are not for Easter next year, but rather Spring, Summer and Mother's Day-themed crafts that the kids can make right now!
These unique crafts are the quality that you would expect from busybeekidscrafts.com - super creative ideas with easy to follow instructions and step-by-step color instructions and templates.
The crafts in this ebook are suitable for a wide range of ages. These ideas are easy enough that a preschooler can do most of them (with some adult help of course), but fun enough for school-aged children to enjoy as well!
What kind of crafts will you find?
These are not Easter Bunny or Easter Chick crafts, these are unique crafts like insect and animal crafts as well as a fruit and flower craft. Many of these crafts can be used for Mother's Day, but we have included one special craft that Mom would love! These ideas are suitable for boys and girls. And, keep in mind that these projects are made with Easter eggs, so there's no reason why you can't include them in your Easter craft agenda!


Read what others have said...
"You guys have outdone yourselves, these are the cutest ideas I have ever seen! I'm going to have my kindergarten class bring in their eggs after Easter and we'll definitely be putting these ideas to good use! This will really add to our fun this year and for years to come!"
Heather H., Buffalo, NY
"I usually toss out my eggs every year, thanks to your ebook I've got lots of projects planned. I showed your book to my kids and they want to do ALL of the crafts! Thanks for all the great ideas!"
Alisa R., Exeter, CA
"I don't know how you guys think of these things! Highly recommended to all craft lovers. I have a new appreciation for those eggs that seem to kick around my house after Easter, what a cheap craft material, I'll never throw away another egg again!"
Jenny C., Baltimore, MD
What else will you need?
Besides plastic Easter eggs, all of the materials needed to create these crafts are inexpensive and easy to find! On top of the standard glue, scissors and pencil you will also need:
• Construction paper
• Craft foam
• Pipe cleaners
• Google eyes
• Coffee filters
• A small piece of cardboard
• Paper towel
• Cotton balls
• Sharpie
• A couple of stickers or other fun embellishments
Note: Most plastic Easter eggs have air holes but there may be a brand out there that does not. Two of the crafts in this book require eggs with air holes.
This ebook is a .pdf file, which means all you need is a printer and you can view and print your ebook whenever you want as many times as you want. No shipping or processing fees which is why it is offered at such a reasonable price: $1.49


Ready to Order?
What will happen after you click on the add to cart button?
You will go to a secure order form, then simply authorize your payment through paypal and you will be directed to a secure download page where you can download Plastic Easter Egg Crafts. You will also receive an email with a link to the the ebook as well!


What is an ebook?
An e-book is an electronic book. It is a file that you donwload to your computer and print from there. Once you have downloaded the e-book it lives on your computer and you can open and read it or print it any time you like.
The advantages to ebooks is that you receive the e-book instantly, as soon as you pay. There is no waiting time. AND You save handling, packacking and shipping charges.
An ebook is a .pdf file which means you need adobe reader to open and print your ebook. Your computer probably already has this software, but if it does not you can download it for free here
Leave the Plastic Easter Egg Crafts Page and return to the Home Page