Pop Up Ghost
This Pop Up Ghost is not only fun to make but it's also fun to play with. What's great about this Halloween craft is that it's made from simple items found around the house!


Ages: 6 and Up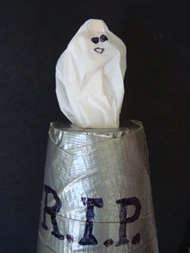 Here's what you'll need...
• Paper or Styrofoam cup
• Duct tape (gray is best)
• Permanent black marker
• Plastic bag
• Scissors
• Craft stick
• Glue



Here's how you make it...
1. To make your "grave stone" first cut a hole in the bottom of your cup.



2. Stick duct tape all around the hole in your cup.



3. Cut 2"-3" lengths of tape and cover your entire cup.



4. With a black marker write something spooky on your grave stone.



5. Take the corner of a plastic bag and cut off a few inches more than the height of your cup.



6. Put a good amount of glue on the end of the craft stick and stick it into the corner of your plastic bag. Let it dry!



7. Once the glue is dry insert the plastic bag/craft stick into the cup and through the hole. Tape the ends of the bag to the inside of the cup.



8. Draw a face on your ghost with a black marker.
Now move your ghost up and down and watch it pop-up from the grave stone! Make sure the glue is completely dry before you work your Pop-Up Ghost or the craft stick will come out!


Sign up for our FREE Newsletter
The Busy Bee BUZZzzz
You'll get the BUZZzzz on our new crafts, featured crafts for up coming holidays and seasons, AND learn some fun and useful tips for doing kids crafts - all delivered to your inbox from busybeekidscrafts.com.
Your email address is totally secure, it is only used to send you the Busy Bee BUZZzzz.