Popsicle Paints
These popsicle paints are a fun summer crafts for kids. Just make sure you make a lot because they may melt before you've finished having fun with them! Just make sure the children you are doing this craft with know that these 'popsicles' don't go in the mouth!




Level of Difficulty: Easy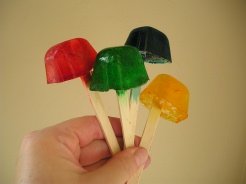 Here's what you'll need...
•A container to make your paints in like an ice cube tray (as in the picture) or a real Popsicle container.
•Water
•Food coloring
•Popsicle sticks
•Cling rap (optional)



Here's how to make them...
1.Fill your container with water and add 5 drops of food coloring in each section. Make as many colors as you wish.



2.Insert the popsicle sticks into each section. They don't need to be straight. If you are using an ice cube tray you can cover with cling wrap and insert the sticks through the wrap to keep them straight.

3. Freeze until solid and then you're ready to bring them outside..paint on paper, paint the side walk or fence, make some wonderful creations!


Sign up for our FREE Newsletter
The Busy Bee BUZZzzz
You'll get the BUZZzzz on our new crafts, featured crafts for up coming holidays and seasons, AND learn some fun and useful tips for doing kids crafts - all delivered to your inbox from busybeekidscrafts.com.
Your email address is totally secure, it is only used to send you the Busy Bee BUZZzzz.
Find more Craft Recipes like the Popsicle Paints Find more Summer Crafts