Prickly Christmas Tree
You can touch and feel the pine needles on this Prickly Christmas Tree! Decorate your tree with what ever embellishments you have around the house! A great Christmas craft for preschoolers, on up!




Level of Difficulty: Easy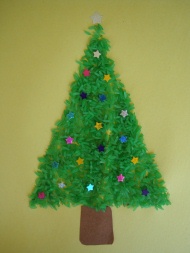 Here's what you'll need...
• Rice
• Green food coloring
• Water
• Zipper baggie
• Wax paper
• Card stock or cardboard
• Pencil
• Marker
• Glue
• Embellishments from around the house
Here's how you make it...

1. Place 1 teaspoon of water and 6 drops of green food coloring in to a zipper baggie. Add 1/2 cup of rice into the baggie, seal it and mix well to coat all the rice. Spread the rice on a piece of wax paper to dry. It will take 1/2 hour to and hour for your rice to be dry and ready to use depending on your climate.


2. Draw a triangle on your piece of cardstock or cardboard, fill it in with glue.



3. Sprinkle your green rice over top of the triangle, press it down a little if you want. Then shake it off. You're left with a prickly tree!
4. Decorate your tree with whatever you have around the house. We used stickers, but you can use felt scraps, pom poms, glitter glue, construction paper and so on. Don't forget to make a trunk for your tree, use a marker or piece of construction paper!
Just regular construction paper will work for this craft, but the rice is a little heavy so that's why we've recommended using a heavier paper like card stock - even the back of a cereal box would work well!


Sign up for our FREE Newsletter
The Busy Bee BUZZzzz
You'll get the BUZZzzz on our new crafts, featured crafts for up coming holidays and seasons, AND learn some fun and useful tips for doing kids crafts - all delivered to your inbox from busybeekidscrafts.com.
Your email address is totally secure, it is only used to send you the Busy Bee BUZZzzz.
Click here to find more Christmas Crafts like the Prickly Christmas Tree