Recycled Snowman
Decorate your home or class room with this great Recycled Snowman! It's fun to create your own snowman especially from recycled materials! Preschoolers may need help to do the tying, but they'll have lots of fun crumpling the paper and decorating their snowman!




Level of Difficulty: Easy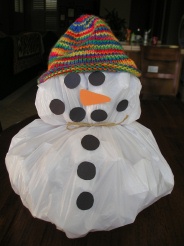 Here's what you'll need...

• Plastic bag
• Recycled white computer paper
• Yarn or twine
• Construction paper
• Scissors
• Tape or glue
• Winter hat and/or scarf (optional)



Here's how you make it...
1. Crumple up old scraps of white computer paper and fill a plastic bag (other plastic bags make good, recycled, filler too).



2. Tie the handles of the bag together and flip over - the ties sit on the bottom. Wrap a piece of yarn or twine around the plastic bag and tie tightly, this will separate your snowman's head and body.



3. Cut out circles and a triangle nose. Tape or glue the shapes onto your snowman. Look around for old hats and scarves to dress him up!
Some children like to decorate the snowman over and over again, so we suggest that you roll up masking tape and put a piece on each shape so that they can be put on and removed easily!




Sign up for our FREE Newsletter
The Busy Bee BUZZzzz
You'll get the BUZZzzz on our new crafts, featured crafts for up coming holidays and seasons, AND learn some fun and useful tips for doing kids crafts - all delivered to your inbox from busybeekidscrafts.com.
Your email address is totally secure, it is only used to send you the Busy Bee BUZZzzz.
Click here to find more Winter Crafts like the Recycled Snowman
Click here to find Christmas Crafts for Kids