Safari Collage
This Safari Collage is an easy and fun craft to make. Just make sure you have some extra cookies for the kids to sample while their making their Safari scene!


Ages: 3 and Up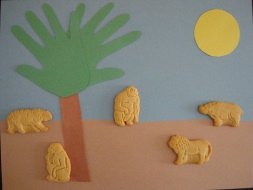 Here's what you'll need...
• Construction paper
• Scissors
• Pencil
• Glue
• Animal crackers



Here's how you make it...
1. Cut a strip of brown paper and glue or tape it onto a full piece of sky blue paper.



2. Now you need to make your sun and tree. We made our tree with two hand prints we cut out of green construction paper, and a brown trunk and yellow sun. You can make these any way you choose; you can use paint, markers, crayons or paper.


3. Now glue on your animal crackers to complete your scene!


Sign up for our FREE Newsletter
The Busy Bee BUZZzzz
You'll get the BUZZzzz on our new crafts, featured crafts for up coming holidays and seasons, AND learn some fun and useful tips for doing kids crafts - all delivered to your inbox from busybeekidscrafts.com.
Your email address is totally secure, it is only used to send you the Busy Bee BUZZzzz.