Scratch N Sniff Paint
Kids will love to smell their painted creations with this Scratch N Sniff paint. Make it in all different kinds of "flavors" and enjoy!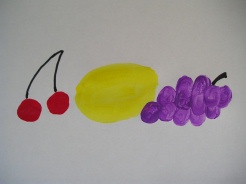 Here's what you'll need...
• Paints, any color you choose
• Powdered drink mix (unsweetened) like Kool-Aid
• Water
• Something to mix your paint in (egg carton or muffin tin works well).



Here's how to make it...
1. In a small container, mix 1 Tbsp of drink mix (this is an entire envelop of kool-aid) with 1 tsp of HOT water. Stir until the powder has dissolved.
2. Pour 1 tsp of paint into a small container (like an egg carton)and add 1/2 tsp of the powdered drink mixture to the paint, stir together well. Make as much paint as you'd like... for every tsp of paint add 1/2 tsp of your powdered drink mixture.
3. Repeat for each flavor of paint you'd like to use, be creative!




Sign up for our FREE Newsletter
The Busy Bee BUZZzzz
You'll get the BUZZzzz on our new crafts, featured crafts for up coming holidays and seasons, AND learn some fun and useful tips for doing kids crafts - all delivered to your inbox from busybeekidscrafts.com.
Your email address is totally secure, it is only used to send you the Busy Bee BUZZzzz.
Click here to see more craft recipes like the Scratch N Sniff Paint