Snow Ball Time Capsule
This Snow Ball Time Capsule will help you remember fun winter memories! A great craft to share with friends!




Level of Difficulty: Easy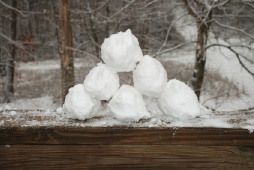 Here's what you'll need...
• Paper
• Pen or pencil
• Baggie
• Snowball
• Freezer space



Here's how you make it...
1. Find a piece of paper and pen. Write down a special message or memory of winter time. Place your message into a baggie, make sure it's the zipper kind so your paper won't get wet!
2. Place your baggie into a snow ball and then place your snow ball in the freezer. When summer comes take the snowball out, let it melt and read your special message.
You could also put small freezable objects into the baggie as well!


Sign up for our FREE Newsletter
The Busy Bee BUZZzzz
You'll get the BUZZzzz on our new crafts, featured crafts for up coming holidays and seasons, AND learn some fun and useful tips for doing kids crafts - all delivered to your inbox from busybeekidscrafts.com.
Your email address is totally secure, it is only used to send you the Busy Bee BUZZzzz.
Click here to find more Winter Crafts like the
Snow Ball Time Capsule