Snowflake Ornaments
These easy Snowflake Ornaments are a fun way for kids to make their own homemade decorations, or you can just glue your snowflakes on paper for an easy Winter season picture! Great for preschoolers on up!


Ages: 3 and Up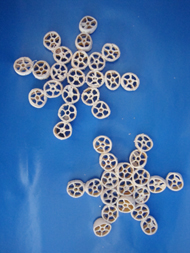 Here's what you'll need...
• White paint
• Glue
• Uncooked wagon wheel macaroni
• Small bowl and spoon
• Wax paper
• Baking sheet
• Glitter (optional)
• Fishing line, string or ribbon (to hang your ornament)



Here's how you make them...
1. In a small bowl combine ½ cup of macaroni, ¼ cup of white paint and 2 Tablespoons of glue. Mix until the macaroni is well covered (this amount will make 2 good sized ornaments)



2. Cut a square of wax paper and place it on a baking sheet. Arrange your macaroni into a snowflake shape on the wax paper, make sure all the macaroni is touching each other!



3. If you have any glitter you can lightly sprinkle it on top of the snowflake.
4. Let you snowflake dry overnight, 24 hours is best. Gently peal off the wax paper, and tie on a string for hanging!


Sign up for our FREE Newsletter
The Busy Bee BUZZzzz
You'll get the BUZZzzz on our new crafts, featured crafts for up coming holidays and seasons, AND learn some fun and useful tips for doing kids crafts - all delivered to your inbox from busybeekidscrafts.com.
Your email address is totally secure, it is only used to send you the Busy Bee BUZZzzz.
Find more Christmas Crafts like these Snowflake Ornaments
Find more Winter Theme Crafts