Snowman Stamping
Snowman Stamping is a fun way for children to make their own unique snowman. Stamp snowmen all over brown paper to make creative wrapping paper or card!


Level of Difficulty: Easy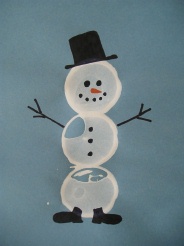 Here's what you'll need...
• White paint
• Toilet paper roll
• Construction paper
• Paper plate or shallow dish
• Markers






Here's how you make it...
1. Pour some white paint on a paper plate or shallow dish.



2. Dip one end of your toilet paper roll into the paint and press it onto a piece of construction paper. A film of paint will form on the TP roll (as in the picture), which looks like a bubble. Repeat for as many snowmen you would like on your picture.
3. Once the paint is dry use markers to deocrate your snowman.
Tempera paint was used on the pictured craft, a thinner paint than acrylic craft paint, if you are not getting a film on your TP roll it may be because of the paint you are using. At the very least you will get white circles which will also make nice snowmen!




Sign up for our FREE Newsletter
The Busy Bee BUZZzzz
You'll get the BUZZzzz on our new crafts, featured crafts for up coming holidays and seasons, AND learn some fun and useful tips for doing kids crafts - all delivered to your inbox from busybeekidscrafts.com.
Your email address is totally secure, it is only used to send you the Busy Bee BUZZzzz.
Click here to find more Winter Crafts like the Snowman Stamping