Space Shuttle
Get ready to blast off! This Space Shuttle Craft is an easy project for any space enthusiast. If you don't have a paper towel roll just roll up a piece of white construction paper!
Level of Difficulty: Easy to Moderate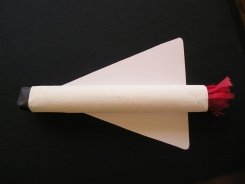 Here's what you'll need...
• Paper towel roll
• White cardstock or construction paper
• Black construction paper
• Red paper (tissue or construction)
• Scissors
• Glue
• Markers



Here's how you make it...
1. Paint your paper towel roll white and cut a white triangle from your cardstock.



2. Crumple up a small piece of black construction paper and stick it in the top of the roll. It should stay in pretty well by itself, but glue it in if you want extra stability. With your markers write the name of your rocket ship on the side of your roll.
3. Glue strips of red paper onto the bottom of your roll to make the engine fire. Glue the roll to the triangle, and you're ready to blast off!




Sign up for our FREE Newsletter
The Busy Bee BUZZzzz
You'll get the BUZZzzz on our new crafts, featured crafts for up coming holidays and seasons, AND learn some fun and useful tips for doing kids crafts - all delivered to your inbox from busybeekidscrafts.com.
Your email address is totally secure, it is only used to send you the Busy Bee BUZZzzz.
Click here to find more Space Crafts like the Space Shuttle
Find more Transportation Crafts for Kids