Spaghetti Christmas Ornaments
These unique Spaghetti Christmas Ornaments are a great holiday craft for toddlers, on up. They would make a cute gift for a Grandparent or family member! They won't last until next season, but they're fun to make every year!
Level of Difficulty: Easy
If you're doing this craft with a group, keep in mind these decorations need to be left to dry overnight.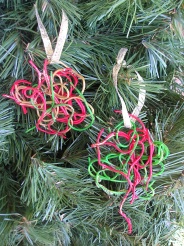 Here's what you'll need...
• Spaghetti, broken in half, cooked and cool
• Glue
• Paint – Christmas colors
• Bowl and spoon
• Wax paper
• Ribbon, yarn or string (to hang your ornament)
• Dessert sized paper plates (optional)


Here's how you make it...
1. Mix 1 Tablespoon of glue with 1 Tablespoon of paint in a bowl. Add 1 Cup of cooked, cooled spaghetti and stir until the spaghetti is covered (if you want to use more or less spaghetti just remember, one part glue, one part paint). If you are using more than one color just place one color on a paper plate or wax paper and clean out your bowl and mix another color.

2. Take the spaghetti a piece or two at a time and arrange it on the wax paper in what ever design you choose.
3. Let dry overnight. Peel the ornament off the wax paper, and string a piece of ribbon, yarn or string, through your ornament and hang.
If you're doing this craft with a toddler, it may help to keep the spaghetti contained if you draw a circle or square onto the wax paper with a permanent marker and tell them to make their ornament inside the shape.
Add some extra sparkle by decorating with glitter glue once they've dried!


Sign up for our FREE Newsletter
The Busy Bee BUZZzzz
You'll get the BUZZzzz on our new crafts, featured crafts for up coming holidays and seasons, AND learn some fun and useful tips for doing kids crafts - all delivered to your inbox from busybeekidscrafts.com.
Your email address is totally secure, it is only used to send you the Busy Bee BUZZzzz.
Click here to find more Christmas Crafts like these
Spaghetti Christmas Ornaments