Stained-Glass Heart
Kids will love to make this easy and beautiful Stained-Glass Heart, use as many different colors of tissue paper as you'd wish to make a special valentine!
Level of Difficulty: Easy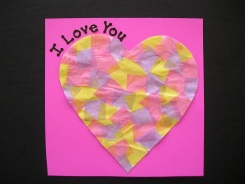 Here's what you'll need...
•Construction paper
• White paper
• Tissue paper (at least 2 colors)
• Scissors
• Glue
• Water
• Brush
• Marker


Here's how you make it...
1. Draw a heart shape onto a white piece of paper



2. Cut your tissue paper into squares. Cut your squares bigger for younger children so they will be easier to handle.



3. Water down your glue (about 1 tablespoon of water to 1 teaspoon of glue). Using a brush, glue your tissue squares onto your heart. Brush glue underneath and on top of the tissue if you want.



4. Once your have filled in your heart, cut it out and mount on a piece of construction paper. Write a special message on your unique valentine!




Sign up for our FREE Newsletter
The Busy Bee BUZZzzz
You'll get the BUZZzzz on our new crafts, featured crafts for up coming holidays and seasons, AND learn some fun and useful tips for doing kids crafts - all delivered to your inbox from busybeekidscrafts.com.
Your email address is totally secure, it is only used to send you the Busy Bee BUZZzzz.
Click here to find more Valentines Day Crafts
like the Stained-Glass Heart