Sweetie Pie
Give your Sweetie Pie... A Sweetie Pie! Fill your pie with your favorite small candy, like small Jelly Beans or cinnamon hearts. A great gift for that someone special!


Ages: 6 and Up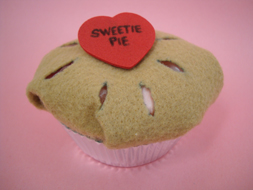 Here's what you'll need...
• Printed Sweetie Pie Template*
• 3-4 Muffin cups (any kind will do, we used metallic)
• Light Brown felt
• Rubber band or string
• Jelly Beans or other small candy
• Sandwich baggie and twist tie
• Scissors
• Glue
• A small piece of red construction paper or craft foam
• Black marker


* Instructions for template:
The template will open in a new window; close this window when you are done printing to return to the activity page. You will need Adobe Reader to open the template. If you do not have it you can download it for free
here
.

Here's how you make it...
1. Make sure your 3 muffin cups are stacked inside each other (one cup is not sturdy enough to hold the felt and candy). Cut about ½" from around the top of your muffin cups.



2. Cut out the printed template and trace it onto a piece of light brown felt.



3. Cut out the pie shape from the felt. The easiest way to cut out the ovals around the pie is to fold the felt slightly, make a slit, and then cut out each oval.



4. Fill a baggie with ⅓ cup of Jelly Beans or other small candy. Secure with a twist tie.



5. Place your baggie in the middle of the felt circle. If you traced with marker/pen make sure this side is facing up and make sure the twist tie is facing up as well (when you turn it around it will all be hidden underneath).



6. Wrap felt around the candy and secure at the top by wrapping around a rubber band or some string.



7. Turn your pie over and place it into the muffin cups. If you want you can put some glue inside the muffin cups to secure the pie inside it's shell. Cut out a small heart from paper or craft foam; write "Sweetie Pie" on the paper and glue it to the top of the pie.
You could also place the finished pie into a baggie and tie on a cute gift ribbon and gift tag!


Sign up for our FREE Newsletter
The Busy Bee BUZZzzz
You'll get the BUZZzzz on our new crafts, featured crafts for up coming holidays and seasons, AND learn some fun and useful tips for doing kids crafts - all delivered to your inbox from busybeekidscrafts.com.
Your email address is totally secure, it is only used to send you the Busy Bee BUZZzzz.
Find more Valentines Crafts like this Sweetie Pie Craft
Find more Mothers Day Crafts