Talking Frog Card
The Talking Frog Card has a pop out mouth and is a great all-occasion card for kids to make; or it's just as fun to create it for yourself and make your frog talk by opening and closing the card.




Level of Difficulty: Moderate to Difficult
This craft is rated as difficult because it can be a little tricky to cut the 'pop out' mouth, even for an adult (once you've done it once, it's easy). Any child of any age can draw a frog around the mouth if it has been cut for them ahead of time.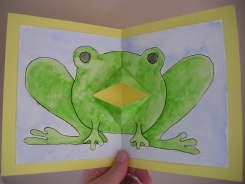 Here's what you'll need...
• 1 piece of white cardstock paper
• 1 piece of yellow cardstock paper (or whatever color you want to make the back of your card
• Glue or scrapbooking mounting squares (double sided)
• Paint, markers or crayons, what ever you want to draw your frog with

Here's how you make it...
1. Fold your white paper in half and cut a straight slit. Make the cut half as big as you would like your frog's mouth. Cut the slit about 1/2 way down the page.

2. Fold the edges down to make 2 triangles, then open your paper all the way.



3.Hold the paper with the folded edge towards you, as shown in the picture.



4. Poke each triangle through, turn your card to the inside, and fold the mouth out along the 'fold lines' that are already on your card (this is the tricky part, but once you've done it, it's easy!)



5. The inside of your card should have a pop out mouth now (see picture).



6. Now your ready to paint or draw on your frog. Once you've finished your drawing you will need to glue or stick on the back of your card (which is also the color inside your frog's mouth).

Now you can make your frog talk! Keep it, or give it to a friend!


Sign up for our FREE Newsletter
The Busy Bee BUZZzzz
You'll get the BUZZzzz on our new crafts, featured crafts for up coming holidays and seasons, AND learn some fun and useful tips for doing kids crafts - all delivered to your inbox from busybeekidscrafts.com.
Your email address is totally secure, it is only used to send you the Busy Bee BUZZzzz.
Click here to find more Reptile Crafts like the Talking Frog Card