The Perfect Tie
Children can make The Perfect Tie for that special man in their life. Daddys, Grandpas, and Uncles will be proud to wear this tie made especially for them! A great homemade gift for Father's Day, Grandparent's Day, or any special occasion.


Level of Difficulty: Easy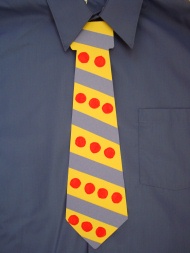 Here's what you'll need
• Construction paper (at least one big, long piece)
• Yarn or twine
• Glue, tape or stapler
• Embellishments from around the house, like markers and stickers





Here's how you make it...
1. Cut a tie shape from a large piece of construction paper, you can use a real tie as a template. Make the 'knot' part of the tie a little bigger than normal, since you will be folding the top of it over to secure the twine.
2. Decorate you tie with anything you choose. We used blue paper stripes and made red dots with markers. Make any kind or drawing on your tie, add stickers or any embellishments you have in your craft box!



3. When you are done decorating your tie, turn it over and place a piece of yarn or twine at the top of the 'knot' part of the tie. Fold your paper over the yarn and glue, staple or tape it to secure. Daddy or Grandpa can use the string to tie it around their neck and wear proudly!



Sign up for our FREE Newsletter
The Busy Bee BUZZzzz
You'll get the BUZZzzz on our new crafts, featured crafts for up coming holidays and seasons, AND learn some fun and useful tips for doing kids crafts - all delivered to your inbox from busybeekidscrafts.com.
Your email address is totally secure, it is only used to send you the Busy Bee BUZZzzz.
Find more Father's Day Crafts like The Perfect Tie
Find more Grandparents Day Crafts