Things God Made Booklet
The Things God Made Booklet is a great craft for preschoolers on up. This craft provides a wonderful opportunity to discuss all of God's creations!




Level of Difficulty: Easy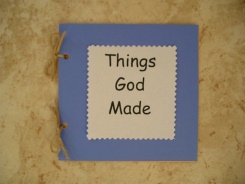 Here's what you'll need...
• 4-5 pieces of construction paper, your choice of color
• Small piece of twine or yarn
• Hole punch (scissors will work)
• Magazines
• Scissors
• Glue
• Marker
Here's how you make it...
1.Cut your construction paper into pages, make them as big or small as you like. Punch two holes in each peice of paper and "bind" your book together by tying twine or yarn through the holes. On the front of the Booklet write, "Things God Made."

2.Using the magazines, cut out pictures of things that God Made, perhaps it is your favorite things? Another option is to go for a walk outside and collect some real things God made, like leaves, flowers, and pebbles. Glue all of your pictures or treasures into your book and you will have a constant reminder of all of God's beautiful creations.




Sign up for our FREE Newsletter
The Busy Bee BUZZzzz
You'll get the BUZZzzz on our new crafts, featured crafts for up coming holidays and seasons, AND learn some fun and useful tips for doing kids crafts - all delivered to your inbox from busybeekidscrafts.com.
Your email address is totally secure, it is only used to send you the Busy Bee BUZZzzz.
Click here to find more Sunday School Crafts like the Things God Made Booklet