Tie Dyed Leaves
These Tie Dyed Leaves are a great fall kids craft! These will look great as a fall decoration around the house, or sprinkled on top of a table for Thanksgiving or any fall celebration!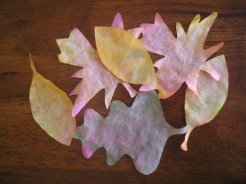 Level of Difficulty: Moderate
Here's what you'll need...
•Coffee Filters
•Construction paper (any color)
•Food coloring
•Eye dropper or straw
•Scissors
•Pencil
•Small containers (egg carton or muffin tin will work too)

Here's how to make them...

1. From your construction paper, make templates of leaves to trace onto the coffee filters. You can either draw your leaves free hand, or find some leaves outside and use them as your template.



2. Trace and cut out as many leaves as you would like from your coffee filters.



3. In small containers mix 1 Tbsp of water with 3 drops of food coloring (1 Tbsp of water will be enough for about 7-8 leaves, double the mix if needed)The more food coloring you add to your water, the more vibrant the colors will be. Mix one color in each container, mix all the colors together to make brown.



4. Using the eye dropper or straw, begin dropping one color onto your leaves. Only drop one color at a time and use a new dropper for each color (if you only have one, just rinse it out after each use). You have created some beautiful fall leaves!



Sign up for our FREE Newsletter
The Busy Bee BUZZzzz
You'll get the BUZZzzz on our new crafts, featured crafts for up coming holidays and seasons, AND learn some fun and useful tips for doing kids crafts - all delivered to your inbox from busybeekidscrafts.com.
Your email address is totally secure, it is only used to send you the Busy Bee BUZZzzz.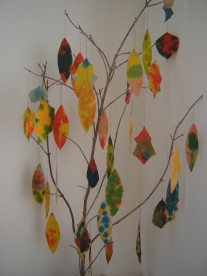 From one of our
Busy Bees
Julie from Norfolk, UK., sent us this picture of her kids' version of our Tie Dyed Leaves Craft. They made a whole Fall tree out of these leaves and it looks spectacular! What a great idea! Thanks Julie for sending this along!
If you have any comments or suggestions please send them along,
contact us
, send us a picture, we'd love to spotlight your children's creations!
Click here to find more Fall Crafts like these Tie Dyed Leaves