Wading Dinosaur
This unique Wading Dinosaur is a super fun craft for kids. Preschoolers and Kindergartners can do this craft if an adult helps with the cutting parts. This Dinosaur could be an Apatosaurus or a Diplodocus since they spent a lot of time in the water.


Ages: 4 and Up
A Preschooler can do this craft if an adult helps with the cutting parts.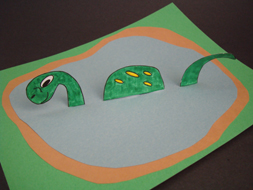 Here's what you'll need...
• Printed Wading Dinosaur to color* (print on a sturdy paper like white construction paper or card stock)
• Blue, brown and green construction paper
• Scissors
• Glue and/or tape
• Markers or crayons


* Instructions for template:
The template will open in a new window; close this window when you are done printing to return to the activity page. You will need Adobe Reader to open the template. If you do not have it you can download it for free
here
.
Don't be intimidated by all the photos and instructions, this is a quick and easy craft to put together, we just wanted to be very thorough with our instructions.

Here's how you make it...
1. Color and cut out your Wading Dinosaur. You will see a dotted line and a tab under each piece, you do not need to color this part. You can color both sides, or just one.



2. Cut a pond shape from a piece of blue construction paper.



3. Glue or tape your blue pond onto a piece of brown paper. Cut around your lake leaving a small bit of brown paper to make the sand.



4. Glue the sand surrounded pond onto a piece of green paper to make the grass.
If you want to make this craft even easier just put your wading dinosaur on one piece of blue paper for the lake and skip steps 3 and 4.



5. Place your dinosaur pieces flat on the lake, put the bottom tabs where you would like your dinosaur to swim. Draw a line under each of the three tabs, you can use a ruler.



6. With a pair of scissors (or a craft knife) make a slit along each of the lines you have drawn.



7. Fold and unfold each tab of your dinosaur along the dotted line. Slide each part into the slit in the paper.



8. Fold the tab over and tape to secure on the back of the paper. Your dinosaur will be standing up in the water!


Sign up for our FREE Newsletter
The Busy Bee BUZZzzz
You'll get the BUZZzzz on our new crafts, featured crafts for up coming holidays and seasons, AND learn some fun and useful tips for doing kids crafts - all delivered to your inbox from busybeekidscrafts.com.
Your email address is totally secure, it is only used to send you the Busy Bee BUZZzzz.