Wrapped Around my Finger
I've got Daddy wrapped around my finger! This is a cute craft for children to give to their fathers, you can even do this one with your baby! Make this into a magnet by sticking on a self adhesive magnet you can find at a craft store for under $1!
Level of Difficulty: Easy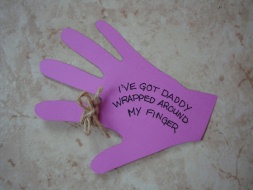 Here's what you'll need...
• Cardboard or cardstock paper
(use a paper plate if you don't have either)
• Twine/yarn/ribbon
• Marker
• Pencil
• Scissors



Here's how you make it...
1. Trace a hand print onto your paper. If you are using cardboard trace the hand onto a piece on colored construction paper first and then glue it onto the cardboard (then you won't have a brown hand print). Cut it out.
2. Wrap a piece of twine, ribbon or yarn around one of the fingers and tie it in a bow at the front. Write on the front: "I've got Daddy wrapped around my finger!"
Another, yet messier, option is to brush some paint on a hand and press it onto the paper, and then cut around it.


Sign up for our FREE Newsletter
The Busy Bee BUZZzzz
You'll get the BUZZzzz on our new crafts, featured crafts for up coming holidays and seasons, AND learn some fun and useful tips for doing kids crafts - all delivered to your inbox from busybeekidscrafts.com.
Your email address is totally secure, it is only used to send you the Busy Bee BUZZzzz.
Click here to find more Father's Day Crafts like
I've got Daddy wrapped around my finger