Zebra Collage
This Zebra Collage is a fun and easy kids craft made with simple craft materials. The perfect craft for any Zebra or Zoo animal fan for preschoolers on up!


Ages: 3 and Up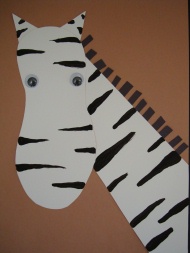 Here's what you'll need...
• Construction paper
• Pencil
• Scissors
• Black paint or marker/crayon
• Google eyes (optional)
• Glue or double sided tape



Here's how you make it...
1. First you need prepare all your shapes. Trace a foot print on to white paper and cut out (a foot with a shoe on makes a better shape). Next cut 2 small triangles for ears, and then make your Zebra's neck - a big long triangle with the tip cut off.



2. Glue your shapes onto a piece of construction paper. Make the Zebra's neck out to the side, put the head in place and lastly the ears.



3. Some of the neck will hang off the paper, just trim it to fit with a pair of scissors.



4. Make your Zebra's black strips with paint, markers or crayons.



4. Cut some small black strips of paper, no longer than 1 inch. Glue them along the neck for the Zebra's mane (if you have any black yarn lying around it would make a great mane as well).
5. Glue on some google eyes (or draw them on) and you're done!


Sign up for our FREE Newsletter
The Busy Bee BUZZzzz
You'll get the BUZZzzz on our new crafts, featured crafts for up coming holidays and seasons, AND learn some fun and useful tips for doing kids crafts - all delivered to your inbox from busybeekidscrafts.com.
Your email address is totally secure, it is only used to send you the Busy Bee BUZZzzz.