Ancient Petroglyphs
Have the kids make their own Ancient Petroglyphs. Petroglyphs are rock carvings done in prehistoric times are are found all over the world! The most Petroglyphs can be found in South Western North America, Australia, Africa, Scandinavia, and Siberia.


Ages: 4 and Up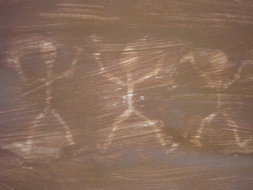 Here's what you'll need...
• White crayon
• White paper
• Rock colored paint
• Paint brush (large is best)



Here's how to make it...
1. On a piece of white paper draw your petroglyph with the white crayon. People and animals were always a big focus in petroglyphs. Think about the types of animals that live in the region you are drawing.
2. Paint over top of your crayon drawing. The wax in the crayon will not absorb the paint so it will show through. Brush on the paint, and keep brushing until your paint brush seems dry, keep brushing over top of the crayon. It is important to not put thick paint on top of your petroglyph, or it won't show through!


Sign up for our FREE Newsletter
The Busy Bee BUZZzzz
You'll get the BUZZzzz on our new crafts, featured crafts for up coming holidays and seasons, AND learn some fun and useful tips for doing kids crafts - all delivered to your inbox from busybeekidscrafts.com.
Your email address is totally secure, it is only used to send you the Busy Bee BUZZzzz.