Bunny Collage
Have the kids create their own Bunny Collage, made out of simple craft materials and things you have around the house!





Ages: 2 and Up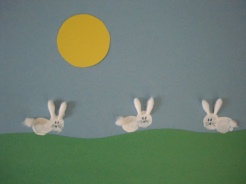 Here's what you'll need
• Construction paper
• White paint
• Q Tips
• Shallow container or paper plate
• Cotton balls
• Scissors
• Glue
• Black marker



Here's how you make it...
1. Cut out a green strip of "grass" and glue it onto a piece of sky blue paper.



2. Pour some white paint into a shallow container or paper plate. Make your Bunnies out of two thumb prints. One for the head, and one for the body. Make as many bunnies as you'd like, anywhere in the meadow.



3. Break off the ends of your Q Tips and glue them on top of your thumb prints to make the bunny's ears. Glue on a small wad of cotton ball for the tail.
4. Cut out a sun from yellow construction paper and glue in on your scene. When the paint is dry, draw on the eyes, nose and whiskers.
Other options to add to your collage are green pieces of tissue paper stuck on as grass, or cotton ball clouds, be creative!



You can always just use one thumb print as well, which may work better for the little ones.


Sign up for our FREE Newsletter
The Busy Bee BUZZzzz
You'll get the BUZZzzz on our new crafts, featured crafts for up coming holidays and seasons, AND learn some fun and useful tips for doing kids crafts - all delivered to your inbox from busybeekidscrafts.com.
Your email address is totally secure, it is only used to send you the Busy Bee BUZZzzz.
Find more Easter Crafts like the Bunny Collage
Find more Bunny Rabbit Crafts