Butterfly Baggie
This butterfly Baggie is just that - a butterfly made from a regular zip-lock baggie! If you can crumple paper, you can do this craft, perfect for toddlers and preschoolers!


Ages: 2 and Up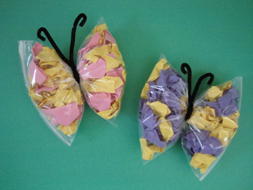 Here's what you'll need...
• Zip-lock baggie
• Construction paper
• Pipe cleaner
• Scissors



Here's how you make it...
1. Cut the top off the baggie that sticks up above the zipper.



2. Cut construction paper into squares, crumple them and place them inside the baggie. Fill the baggie about ⅔ full.



3. Squeeze out the air in the baggie and seal it tight. Gather it in the middle and wrap and twist a pipe cleaner around the center. Twirl the ends to make the butterfly's antennas.
There are other ways to do this craft. You can slide flat pieces of paper inside the baggie, fold the baggie accordion-style and secure with a pipe cleaner. You can also use a clothespin for the center rather than a pipe cleaner.


Sign up for our FREE Newsletter
The Busy Bee BUZZzzz
You'll get the BUZZzzz on our new crafts, featured crafts for up coming holidays and seasons, AND learn some fun and useful tips for doing kids crafts - all delivered to your inbox from busybeekidscrafts.com.
Your email address is totally secure, it is only used to send you the Busy Bee BUZZzzz.