Butterfly Suncatcher
This beautiful Butterfly Suncatcher is make with clothes pins and tissue paper. Attach your butterflies with yarn to a wooden dowel, hanger, or anything you have around the house. Just hang it in the window and the sun will shine through the tissue paper!




Level of Difficulty: Moderate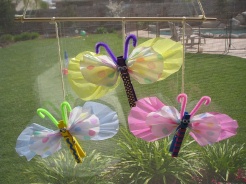 Here's what you'll need...
•3 clothes pins
•Tissue paper in a couple of different colors
•Pipe cleaners
•Yarn or twine
•Wooden dowel, hanger, or stick
•Paint and brush, your choice of colors
•Scissors
•Google eyes, or black marker


Here's how you make it...

1. Paint your clothes pins any color you'd like. While your waiting for the paint to dry, cut the tissue paper into circles. You will need 1 large circle, and 1 small circle for each butterfly; 6 circles altogether. Use a small bowl and a large bowl to trace circles onto the paper.



2. Scrunch up your tissue paper circle in the middle. Once the paint is dry, insert them into the clothes pin along with a pipe cleaner curled up at the ends (the butterfly's antenna). Glue on your google eyes, or draw on the butterflies faces'.



3.Cut 3 pieces of yarn and tie them onto your dowel. Cut 1 long peice of yarn and tie to either end of the dowel so that you can hang your suncatcher. Hang each butterfly onto the yarn by inserting the yarn into the clothes pin. Just hang up in a window and enjoy!

If you want to get even more creative with your butterfly wings, make them "tie dyed." Have a look at our Tie Dyed Butterfly Craft




Sign up for our FREE Newsletter
The Busy Bee BUZZzzz
You'll get the BUZZzzz on our new crafts, featured crafts for up coming holidays and seasons, AND learn some fun and useful tips for doing kids crafts - all delivered to your inbox from busybeekidscrafts.com.
Your email address is totally secure, it is only used to send you the Busy Bee BUZZzzz.
Click here for more Butterfly Crafts like the Butterfly Suncatcher