Carrot Napkin Holders
These Carrot Napkin Holders are the perfect addition to your Easter table, not to mention that they are an easy and fun kids craft!


Ages: 3 and Up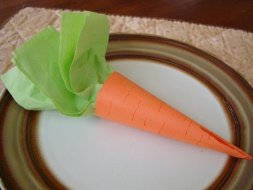 Here's what you'll need...
• Orange construction paper
• Glue or tape
• Green napkin
• Orange marker (optional)





Here's how you make them...
1. Cut your construction paper into a cone or "carrot" shape.



2. Roll up your paper to look like a carrot. Glue or tape to secure it.


3. If the end of your carrot is a little uneven you can trim it with some scissors.



4. If you wish, use an orange marker to make "carrot" lines on your paper. Then, Unfold your napkin once, so that it makes a long rectangle. Gather it in the middle, and insert it into your paper carrot.


Sign up for our FREE Newsletter
The Busy Bee BUZZzzz
You'll get the BUZZzzz on our new crafts, featured crafts for up coming holidays and seasons, AND learn some fun and useful tips for doing kids crafts - all delivered to your inbox from busybeekidscrafts.com.
Your email address is totally secure, it is only used to send you the Busy Bee BUZZzzz.