Cherry Tree
There's nothing more beautiful than a Cherry Tree, especially if it's a homemade one! This is an easy collage craft for preschoolers on up!


Ages: 4 and Up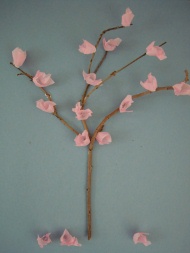 Here's what you'll need...
• Small twigs or branches (or brown marker, paint, crayon)
• Glue
• Pink tissue paper
• Blue construction paper
• Pencil





Here's how you make it...
1. Glue your twigs onto your blue construction paper. If you can't find any twigs you can always paint or draw on your branches.



2. Cut some small squares of pink tissue paper, about 1" X 1" in size.



3. Wrap a square of tissue paper around the end of a pencil. Dip the end in glue, and glue it onto a branch of your tree.



4. Continue gluing pink tissue until you have made a beautiful cherry tree!


Sign up for our FREE Newsletter
The Busy Bee BUZZzzz
You'll get the BUZZzzz on our new crafts, featured crafts for up coming holidays and seasons, AND learn some fun and useful tips for doing kids crafts - all delivered to your inbox from busybeekidscrafts.com.
Your email address is totally secure, it is only used to send you the Busy Bee BUZZzzz.
Find more Japanese Crafts like this Cherry Tree
Find more Flower Crafts