Chick Napkin Holder
When you first look at this Chick Napkin Holder you wonder where the napkin is. Here's a hint, part of the napkin makes the chick's beak. You can make this even more fun for your lunch or dinner guests by placing a chocolate egg inside your egg!


Ages: 4 and Up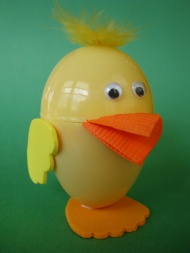 Here's what you'll need...
• Plastic, fillable Easter egg
• Orange napkin
• Orange and Yellow foam board
• Glue
• Scissors
• Google eyes (optional)
• Yellow feather (optional)





Here's how you make it...
1. Fold your napkin so that it can fit inside the egg. Make sure when you are folding your napkin that you leave a small corner piece outside of the egg (the open end, not the folded end).



2. Close your egg, over top of the triangular piece of napkin, this will make your chick's beak.



3. From your foam board cut out some chick feet, and two wings.



4. Glue on your wings on either side of the egg. Next, glue on your google eyes, if you don't have any you can just draw the eyes on with a permanent marker or glue on white paper circles. Glue the feet on last, you can turn your egg upside down to give the glue lots of time to dry and keep the feet in place. If you have a feather you can glue it on the top of your chick's head (this will still look like a cute baby chick napkin holder even with out the feather, so don't worry if you don't have one).
Plastic eggs usually have a bigger and smaller half. You'll notice in the picture we put the bigger half at the bottom, just to make the chick look proportioned.
Foam board is an inexpensive craft material that you can find at any craft store, or discount department store. It's 35 to 40 cents for a whole sheet depending on where you live, and is only about 5 to 10 cents more than a piece of felt


Sign up for our FREE Newsletter
The Busy Bee BUZZzzz
You'll get the BUZZzzz on our new crafts, featured crafts for up coming holidays and seasons, AND learn some fun and useful tips for doing kids crafts - all delivered to your inbox from busybeekidscrafts.com.
Your email address is totally secure, it is only used to send you the Busy Bee BUZZzzz.
Find more Easter Crafts like this Chick Napkin Holder
Find more Bird Crafts for Kids