Christmas Treat Jar
This Christmas Treat Jar is so easy to make and can be filled with just about anything! These make perfect gifts for teachers or anyone who you need to give a 'little something' to for the holidays!
You can find canning jars easily at any craft store or discount department store and only cost about $1.
Level of Difficulty: Easy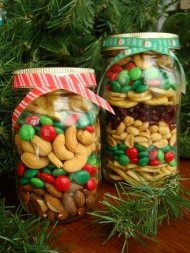 Here's what you'll need...
• Jar
• Snack food
• Ribbon (optional)
• Glue (optional)

Here's how you make them...

1. Start to fill your jar with your Christmas snacks. We put Banana Chips, Craisins (dried cranberries), unsalted peanuts, cashews, and almonds, Christmas colored M&Ms. Choose any snacks you'd wish, just make sure that everything is unsalted. Otherwise the salt will draw the moisture out of your other treats and ruin the taste.
2. Layer your snacks so that they are at least 1" thick, otherwise your snacks will run into each other and won't look 'layered'. A regular sized canning jar will take about 1 cup of snack for each layer - this is a great opportunity for the kids to practice 'measuring'.
3. To finish off your jar tie a piece of ribbon around the lid. We wrapped and criss-crossed a ribbon around our lid and secured it with a drop of hot glue (or fabric glue).
If you want to add an extra special touch, why not make your gift tag out of a handprint, just a quick way to make your gifts even more personalized!


Sign up for our FREE Newsletter
The Busy Bee BUZZzzz
You'll get the BUZZzzz on our new crafts, featured crafts for up coming holidays and seasons, AND learn some fun and useful tips for doing kids crafts - all delivered to your inbox from busybeekidscrafts.com.
Your email address is totally secure, it is only used to send you the Busy Bee BUZZzzz.
Find more Christmas Crafts like the Christmas Treat Jar

Find more Edible Christmas Crafts