Coffee Filter Fan
Have the kids make their own Oriental Coffee Filter Fan. This is a quick and easy craft that doesn't require many materials, but looks authentic and beautiful!
Using a coffee filter makes this craft easier for younger children, since it requires less precise folding, but still has pleats like a real fan!


Ages: 4 and Up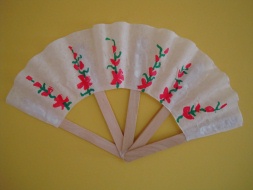 Here's what you'll need
• Coffee filter
• Scissors
• Markers
• 5 craft sticks
• Glue



Here's how you make it...
1. Cut your coffee filter in half, then cut out the center. Hint: you'll notice the coffee filter has pleats around the edges, and has a flat circle in the middle (the part that sits on the bottom of the coffee maker). Use the flat circle part as your guide for cutting out the center.



2. Decorate your fan with markers. Make sure you have some scrap paper underneath since the marker will probably leak through. Traditionally Japanese and Chinese fans have flowers on them, and/or words or phrases (see below). You can decorate your fan any way you choose!



4. Turn your coffee filter over (although the back will look much like the front because the markers will go through), glue on your craft sticks in order from on side to the other. Glue them onto the coffee filter and on top of each other in the center of your fan.
Once the glue dries you will be able to use your fan, or hang it for decoration (this fan will not fold up).
A really neat idea is to have the child(ren) write their names on their coffee filter fan in Japanese or Chinese. There are two great websites out there that will translate it for you:
japanesetranslator.co.uk

chinese-tools.com


Sign up for our FREE Newsletter
The Busy Bee BUZZzzz
You'll get the BUZZzzz on our new crafts, featured crafts for up coming holidays and seasons, AND learn some fun and useful tips for doing kids crafts - all delivered to your inbox from busybeekidscrafts.com.
Your email address is totally secure, it is only used to send you the Busy Bee BUZZzzz.