Cow Door Hanger
A pipe cleaner tail allows this adorable cow to be hung on any door or wall.
Attach a bell around the cow's neck and you'll hear it jingle every time someone comes in.


Level of Difficulty: Easy to Moderate
Make this easier and/or faster by cutting all the shapes ahead of time. Younger children will need help to make holes and to tie on the cow's bell.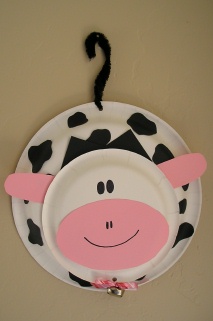 What you'll need...
• 1 dinner sized paper plate
• 1 dessert sized paper plate (can subsitute with construction paper)
• 1 piece of black and pink/peach construction paper or card stock
• 1 black pipe cleaner
• 1 black marker
• Hole punch (scissors will work)
• 1 Bell (optional)
• 1 small piece of ribbon/yarn/twine to attach bell (optional)
• Scissors
• Glue
• Pencil



Here's how to make it...
1. Glue the small plate onto the big plate. The edge of the small plate should be around 1/2 inch from the edge of the big plate (see picture).

2. From your black construction paper, cut your "cow spots" in different shapes and sizes. Glue them onto your big plate to make the cow's body.



3. Cut out an oval from your pink construction paper the same width as your small plate. Using the same paper, trace generously around your index finger twice, to make the cow's ears, and cut out. Using the black paper, cut a 2"x2" square and then cut in half diagonally to make the cow's horns.



4. Glue all the cow's parts into place. With the black marker draw on the cow's eyes, mouth and nostrils.



5. Punch a hole in the top of the paper plate, thread pipe cleaner through hole, fold in half and curl.



6. Punch a hole in the bottom of the small plate. Using a piece of ribbon, yarn or twine, tie on a bell to the "cow's neck."

Ta-Da, all done your Cow Door Hanger, enjoy!


Sign up for our FREE Newsletter
The Busy Bee BUZZzzz
You'll get the BUZZzzz on our new crafts, featured crafts for up coming holidays and seasons, AND learn some fun and useful tips for doing kids crafts - all delivered to your inbox from busybeekidscrafts.com.
Your email address is totally secure, it is only used to send you the Busy Bee BUZZzzz.
Click here to find more Cow Crafts like the Cow Door Hanger
Find more Farm Animal Crafts for Kids