Cow Crafts for Kids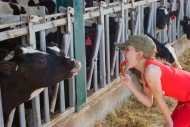 OK Busy Bees, let's get mooooving on our Cow Crafts for Kids! Who doesn't love these adorable farm animals? What a great opportunity to be creative and learn something about these wonderful creatures.
Cows in the Field
Ages 2 and up
The Cows in the Field craft is the perfect animal craft for toddlers on up. They'll need help cutting the shapes but they'll love to make the cows all by themselves!


Clothes Pin Calf
Ages 3 and up
This Clothes Pin Calf is a great Cow Craft for Preschoolers. The Calf's spots look great when they're made with black thumb prints!


Cow Door Hanger
Ages 4 and up
A pipe cleaner tail allows this adorable cow to be hung on any door or wall.Attach a bell around the cow's neck and you'll hear it jingle every time someone comes in.
TP Roll Cow
Ages 4 and up
Kids will love to make this toilet paper roll cow. The TP rolls make up the cow's head and body, and 2 egg carton sections make his legs. Cute and inexpensive!


Talking Cow Card
Ages 4 and up
The Talking Cow Card has a pop out mouth and is a great all-occasion card for kids to make; or it's just as fun to create it for yourself and make your cow talk by opening and closing the card.


Free Farm Animal Printables
Check out these great Farm Animal Printables like
cow coloring pages, mazes, word searches, stationery and so much more!
All from our Sister Site - busybeekidsprintables.com. You'll find tons of fun free printables suitable for preschoolers on up!
Sign up for our FREE Newsletter
The Busy Bee BUZZzzz
You'll get the BUZZzzz on our new crafts, featured crafts for up coming holidays and seasons, AND learn some fun and useful tips for doing kids crafts - all delivered to your inbox from busybeekidscrafts.com.
Your email address is totally secure, it is only used to send you the Busy Bee BUZZzzz.
Need a laugh?
Check out
Family Fun Cartoons
you'll find funny cartoons and drawings, photos and games to involve the whole family with, laughter, how-to-draw things from cartoons to people to animals, games, coloring-in pages, jokes and quotes, and sharing all the fun things with the whole family.
Click here to find more Animal Crafts like the Cow Crafts for Kids
Find more Farm Animal Crafts