Cows in the Field
The Cows in the Field craft is the perfect animal craft for toddlers on up. They'll need help cutting the shapes but they'll love to make the cows all by themselves!




Level of Difficulty: Easy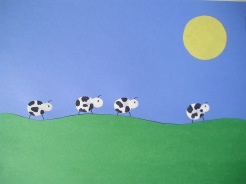 Here's what you'll need...
• Construction paper
• White paint
• Paper plate or shallow container
• Glue
• Marker
• Scissors



Here's how to make it...
1. From a green piece of construction paper cut out a strip of green grass. Cut out a round yellow circle for a sun. Glue or tape these pieces on to a sheet of blue construction paper.



2. Pour some white paint into a paper plate or shallow dish. Dip a finger into the paint and press onto the paper (some where close to the grass would be good). Dip another finger into paint and press again to make the cow's head. Repeat for as many cows you would like in your field.



3. Once the white paint is dry, draw on spots, eye, horn and legs, with a black marker. Another alternative is to dab on the spots with a Q-Tip tiped in black paint.




Sign up for our FREE Newsletter
The Busy Bee BUZZzzz
You'll get the BUZZzzz on our new crafts, featured crafts for up coming holidays and seasons, AND learn some fun and useful tips for doing kids crafts - all delivered to your inbox from busybeekidscrafts.com.
Your email address is totally secure, it is only used to send you the Busy Bee BUZZzzz.
Click here to find more Cow Crafts like the Cows in the Field
Find more Farm Animal Crafts for Kids