TP Roll Cow
Kids will love to make this toliet paper roll cow. The TP rolls make up the cow's head and body, and 2 egg carton sections make his legs. Cute and inexpensive!




Level of Difficulty: Moderate
Here's what you'll need: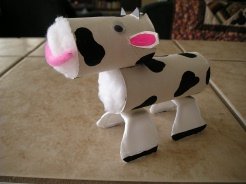 •2 toliet paper rolls
•Paint, white, black and pink
•2 egg carton sections
•Cotton balls
•Glue
•Scissors
•2 google eyes (optional, can use paint)
•Small piece of pink pipe cleaner or felt
•Small piece of yarn or twine, for cow's tail

Here's how to make it...

1. Cut one of the TP rolls in half (one half will be the cow's head). Cut about 1" from the other TP roll (this will be the cow's body). From each side of the cow's head, cut 2 rounded slits and fold out, these will be the cow's ears. From the top of the cow's head, cut two 'horns' and fold up (see picture).



2. Take your two egg carton sections and cut out the front and back of each. These will be the cow's legs.



3. You're ready to paint your cow! Paint each part white and make your cow spots black (or what ever color you'd like your cow to be), paint the inside of the ear pink and each horn grey, if you'd like. This would be a good time to glue or paint on your cow's eyes. Once the paint is dry, glue all of your parts together.

4. Put some cotton balls into each TP Roll. Make a mouth from a pipe clearner, piece of felt, or what ever materials you have, and don't forget to attach a tail to your cow! Great Job, you're done!




Sign up for our FREE Newsletter
The Busy Bee BUZZzzz
You'll get the BUZZzzz on our new crafts, featured crafts for up coming holidays and seasons, AND learn some fun and useful tips for doing kids crafts - all delivered to your inbox from busybeekidscrafts.com.
Your email address is totally secure, it is only used to send you the Busy Bee BUZZzzz.
Click here to find more cow crafts like the TP Roll Cow
Find more Farm Animal Crafts for Kids
Find more Animals made from Toilet Paper Rolls