Easter Egg Wreath
This Easter Egg Wreath is a great gift idea for someone special at Easter time. This is a great group craft that a few children can make for Grandparents, teachers, or babysitters - each child can decorate a few eggs. Suitable for preschoolers on up!


Ages: 3 and Up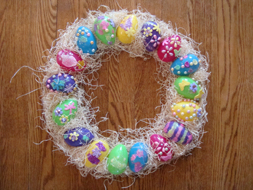 Here's what you'll need...
• Piece of cardboard cut into a doughnut shape (you can also look at your local craft store for a wreath base made of sturdy cardboard or thin plywood).
• Easter Grass
• Plastic Easter eggs that split vertically (although any will do)
• Glue
• Embellishments to decorate your eggs – we used glitter, self-adhesive foam shapes, and other self adhesive decorations (have a look at your local craft store)



Here's how you make it...
1. Glue Easter grass all around your wreath base. Split your eggs in half and place them around the wreath so you will know how many you will need to decorate. Split the eggs evenly among a group of children to create!



2. Decorate the half eggs with fancy embellishments (fancy doesn't have to mean expensive). We put different colors of loose glitter in paper plates and had the children make designs with white glue and then roll the egg in the glitter. We also you self-adhesive shapes which made it easy and fun to decorate! Be creative!
3. Once all the eggs have been decorated and dried, glue the eggs to the wreath. You can use regular school glue, but to make it extra sturdy you (an adult) can use hot glue!