Fruit Bunnies
These Fruit Bunnies are a healthy treat, with a few sweets on top! A wonderful, and colorful, spring time edible craft!
Ages: 5 and up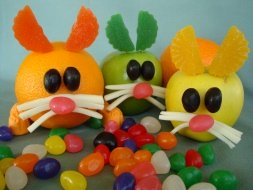 Here's what you'll need for ONE Fruit Bunny...
• An orange or apple
• 2 Candy fruit slices
• 3 Jelly beans
• String cheese
• Toothpicks
• Knife
• 1 Mini Marshmallow
• 2 Peanut shaped candy (optional for Orange bunny)

Here's how you make them...
1. Wash and dry your fruit. All of the bunny's features are attached to the fruit with toothpicks. It is easiest to insert the toothpick into the candy first then into the fruit. If your fruit is very hard it may help to make a hole in the fruit first with the toothpick before you attach the candy.

2. If you are making the orange bunny and want to attach some peanut candy bunny feet you will need to do that first. Attach each foot with a tooth pick into the bottom sides of your orange.
3. Place two jelly bean eyes in the middle of your fruit.



4. To make the whiskers you will need to cut a small, long rectangle from your string cheese (make it about as wide as your fruit). Then cut 3 'whisker' strips on each end of the rectangle, being careful not to cut all the way through.



5. Push a pink jelly bean onto the end of a toothpick. Slide the string cheese whiskers onto the toothpick, pushing them up to the jelly bean nose. Push the toothpick into the fruit, underneath the eyes.
6. Attach your fruit slice candy with toothpicks to the top of the fruit to make the bunny's ears.
7. Attach a mini marshmallow to the back of the fruit to make his bushy tail.


Sign up for our FREE Newsletter
The Busy Bee BUZZzzz
You'll get the BUZZzzz on our new crafts, featured crafts for up coming holidays and seasons, AND learn some fun and useful tips for doing kids crafts - all delivered to your inbox from busybeekidscrafts.com.
Your email address is totally secure, it is only used to send you the Busy Bee BUZZzzz.
Find more Easter Crafts like these Fruit Bunnies

Find more Edible Easter Crafts