Growing Flower
This growing flower kids craft is a great way to celebrate spring time. This craft is made from a paper cup, straw, pipe cleaner, construction paper and tissue paper, an easy and inexpensive craft! Just move the straw up and down and watch your flower grow!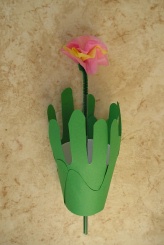 Level of Difficulty: Moderate
Here's what you'll need...
•Paper or Styrofoam cup, small or medium sized
•Straw, clear if possible
•Green pipe cleaner
•Green construction paper
•Tissue paper, color of your choice
•Pencil
•Scissors
•Glue


Here's how to make it...

1. Trace hand prints onto the green paper and cut out. You will need to cut out enough hand prints to cover the cup, the number will depend on how big the hands are and how big the cup is. Glue the hand prints onto the cup to make the 'grass.'



2. With a pencil, poke a hole into the bottom of the cup. Insert the pipe cleaner into the straw, and then insert the straw into the hole in the cup. This makes the stem of the flower.



3. Cut out 3 or more circles out of the tissue paper (use a small mug as a template). Poke the pipe cleaner into the center of each piece of tissue paper and then curl the pipe cleaner to secure the paper.



4. Fold the tissue paper up and wrap the pipe cleaner around the bottom of the flower to secure it in place. Move the straw up and down to watch the flower grow out of the grass!




Sign up for our FREE Newsletter
The Busy Bee BUZZzzz
You'll get the BUZZzzz on our new crafts, featured crafts for up coming holidays and seasons, AND learn some fun and useful tips for doing kids crafts - all delivered to your inbox from busybeekidscrafts.com.
Your email address is totally secure, it is only used to send you the Busy Bee BUZZzzz.
Find more Spring Crafts like the Growing Flower Find more Flower Crafts