Guitar
This guitar is a great musical instrument for kids to make.
All you need is a tissue box, rubber bands, straw and a paper towel roll and you're ready to make some music!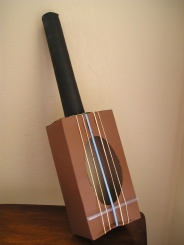 Level of Difficulty: Moderate
Here's what you'll need...
•Empty tissue box (or any box with a lid)
•Rubber bands, various sizes and colors
•Paper towel roll
•Scissors
•Tape
•Straw
•Paint and brush (optional)



Here's how to make it...
1.If you want to make your instrument a certain color, now's the time to paint your tissue box and towel roll. Once the paint is dry you're ready to move on...

2. You will need to cut slits into the end of your paper roll, about 1" long, and bend outwards (this is how you will attach your handle).



3. Wrap rubber bands around your tissue box, making sure that they lie over top of the opening in the box. Cut the straw to fit and slide it under your rubber bands. Secure the handle by sliding it underneath the rubber bands on the top of your box. If you find this is not secure enough, put some tape around the handle. You're ready to make some music!




Sign up for our FREE Newsletter
The Busy Bee BUZZzzz
You'll get the BUZZzzz on our new crafts, featured crafts for up coming holidays and seasons, AND learn some fun and useful tips for doing kids crafts - all delivered to your inbox from busybeekidscrafts.com.
Your email address is totally secure, it is only used to send you the Busy Bee BUZZzzz.
Click here to find more Homemade Musical Instruments like the Guitar