Homemade Musical Instruments
All children love music, and what better way to inspire them than by making their own homemade musical instruments!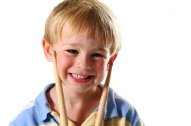 Kids get to be creative in two ways, by actually creating their own instrument and then by making their own music. Not only are these fun crafts to make, they also make use of recycled materials, like tin cans, toilet paper and paper towel rolls.
Easy Tambourine
Ages 3 and up
This Easy Tambourine is a great homemade instrument for any child. You may need to tie on the bells, put they'll love to decorate it and then play some music!


Kazoo
Ages 3 and up
This is a very fun and easy musical instrument to make! When you blow into the open end of the toilet paper roll the sound waves hit the wax paper and make a Kazoo noise!


Tin Can Xylophone
Ages 3 and up
Dig through your recycling bin to find some tin cans to make this great Tin Can Xylophone. Use some pencils or other mallets you have around the house, and let's make some music!


Water Bottle Maraca
Ages 2 and up
Dig through the recycling bin and make this Water Bottle Maraca, a great homemade musical instrument for children of all ages! These also make great noise makers for New Years, birthdays or other special occasions!


Guitar
Ages 4 and up
This guitar is a great musical instrument for kids to make.All you need is a tissue box, rubber bands, straw and a paper towel roll and you're ready to make some music!
Paper Plate Maraca
Ages 2 and up
This Paper Plate Maraca is an easy homemade instrument. Fill it with what ever you have around the house and you're ready to make some music! These also make great noise makers for special occasions!


Homemade Tap Shoes
Ages 3 and up
These Homemade Tap Shoes will make any child sing and dance away, an easy way to make music and get kids moving!



Easy-to-Make Drum Kit - Kit for 12
Why do we love this?
Everything you need comes in kit. Preschoolers may need some help attaching the drum cover, but they can glue on all your pieces and customize their own drum! Older children will love this too!
Decorate Your Own Wooden Maracas
Set of 12
Why do we love this?
We were just so excited that these were made of wood, they will last for a long time! You can decorate them with paint or markers and glue on other embellishments as well! The best part is they are only a little over $1 each, what a deal! Place these maracas in a cup while you're painting (or waiting for the paint to dry).
Sign up for our FREE Newsletter
The Busy Bee BUZZzzz
You'll get the BUZZzzz on our new crafts, featured crafts for up coming holidays and seasons, AND learn some fun and useful tips for doing kids crafts - all delivered to your inbox from busybeekidscrafts.com.
Your email address is totally secure, it is only used to send you the Busy Bee BUZZzzz.
Attention Homeschoolers everywhere!
If you are looking for a way to add in music to homeschool education
homeschool-curriculum-and-support.com
will guide you in different approaches that you can take to provide this important developmental skill to your children.
Click here to find more craft ideas like our
Homemade Musical Instruments