Water Bottle Maraca
Dig through the recycling bin and make this Water Bottle Maraca, a great homemade musical instrument for children of all ages! These also make great noise makers for New Years, birthdays or other special occasions!


Level of Difficulty: Easy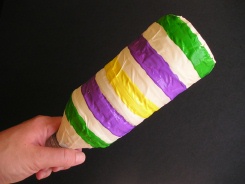 Here's what you'll need
• Empty water bottle with lid
• Masking tape
• Paint/markers
• Popcorn/dried beans



Here's how you make it...
1. Wrap your water bottle from top to bottom with masking tape.
2. Decorate your maraca by drawing or painting a unique design on the masking tape.
3. Fill your water bottle up with popcorn or dried beans, put the lid back on, and then shake, shake, shake!
You can put rocks in your maraca, but the sound won't be quite as pleasing.
You could also wrap your maraca in different colored duct tape if you have it lying around the house!


Sign up for our FREE Newsletter
The Busy Bee BUZZzzz
You'll get the BUZZzzz on our new crafts, featured crafts for up coming holidays and seasons, AND learn some fun and useful tips for doing kids crafts - all delivered to your inbox from busybeekidscrafts.com.
Your email address is totally secure, it is only used to send you the Busy Bee BUZZzzz.
Click here to find more homemade Musical Instruments like the
Water Bottle Maraca