Tin Can Xylophone
Dig through your recycling bin to find some tin cans to make this great Tin Can Xylophone. Use some pencils or other mallets you have around the house, and let's make some music!




Level of Difficulty: Easy
This is an easy craft to put together, but watch little hands since there may be sharp edges on the empty tin cans.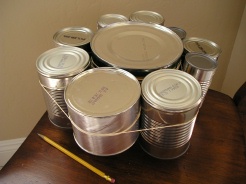 Here's what you'll need...
•Tin cans, various sizes. Big ones like coffee cans are great!
•Rubber bands, or masking/duct tape
•Pencils, or other mallets you have around the house


Here's how to make it...

1. Gather various sizes of empty tin cans, and rubber bands. Put a rubber band around two tin cans and start to add more cans. Secure with more rubber bands as needed (if you don't have many rubber bands, secure the cans with tape). To start making music, hit your xylophone with the rubber ends of pencils, or use mallets you already have around the house, and enjoy!


Sign up for our FREE Newsletter
The Busy Bee BUZZzzz
You'll get the BUZZzzz on our new crafts, featured crafts for up coming holidays and seasons, AND learn some fun and useful tips for doing kids crafts - all delivered to your inbox from busybeekidscrafts.com.
Your email address is totally secure, it is only used to send you the Busy Bee BUZZzzz.
Click here to find more Homemade Musical Instruments like the Tin Can Xylophone